FAQ
&nbsp Am I Eligible to Vote?
The University's OHR web page has a link to the list of eligible voters. For security reasons, we are not linking directly to that list.
&nbsp When and Where Can I Vote?
These are the times and locations for voting. Students can choose their time or polling place with the exception that Duluth students cannot vote in Minneapolis/St Paul and vice versa.
Monday, March 19 - Mpls. Campus East Bank, Moos Tower Room 1-425 CHPS Room
Tuesday, March 20 - Mpls. Campus East Bank, Vincent Hall Room 120
Wednesday, March 21 - Mpls. Campus East Bank, Nolte Hall Room 120 Study Lounge
Thursday, March 22 - Mpls. Campus West Bank, Blegen Hall Room 155
Friday, March 23 - St. Paul Campus, St. Paul Student Center Room 110
Friday, March 23 - Duluth Campus, Kirby Student Center, Kirby Garden Room
Full details regarding the election can be found on the University of Minnesota's OHR web page, which hosts the eligible voter list, as well as the Bureau of Mediation Services' (BMS) Election Order.
&nbsp Can I Vote by Absentee Ballot?
Not anymore. If you haven't already sent in an absentee ballot to the MN Board of Mediation Services, you must vote in person. But don't worry, voting in person is quick and completely private.
&nbsp What Does the Ballot Look Like?
The Election Order also has a sample ballot, which is reproduced below: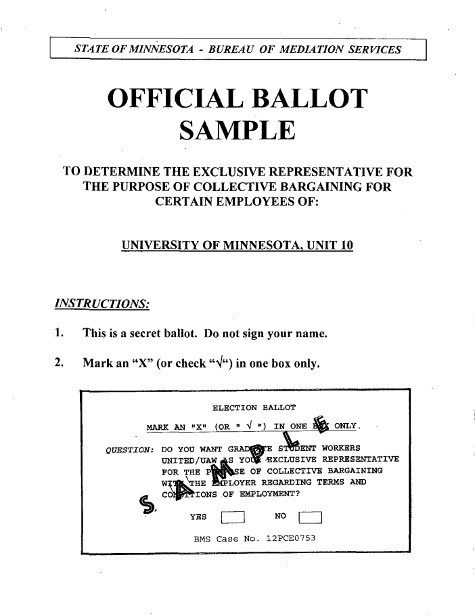 &nbsp Will Anyone Be Able to See My Vote?
No. This is a secret ballot, and nobody will look at the ballots until they are ready to be counted.
&nbsp Can I vote "No" if I have Signed a UAW Card?
The answer is absolutely, YES. Your signature card is not considered when you vote. Your signature card simply stated that you wanted to have this vote and now that the vote has arrived, you may vote either "Yes" or "No." ANYONE can vote "No" and ANYONE can vote "Yes."
&nbsp Should I Vote?
Remember many people were intimidated into signing a card or signed simply to avoid being bothered by the union recruiters in the future. If you legitimately are not in favor of the union you should VOTE NO even if you signed a card. Remember the unionization process states "If greater than 50% of voters say 'yes' to unionization then we move on to election and bargaining. If more than 50% of the voters say 'no' to unionization, then the unionization effort is terminated."
&nbsp Can I Support Unions and Still Vote Against This One?
Yes, many of us hold this position. Unions should be available for protection of workers, but we see no need for a union in our graduate studies.
&nbsp Have University Grad Students Voted on a Union Previously?
The students at the University of Minnesota have rejected unionization three times already. Here are the previous election results below. Keep in mind, however that this election may well be the one where we are unionized so we need to be proactive about opposing the unionization.
2005:

1779 votes against unionization, 1296 votes for unionization; 4461 eligible voters
58% against unionization, 42% for unionization
1999:

1713 against unionization, 1248 for unionization; 4056 eligible
58% against unionization, 42% for unionization
1990:

1810 against unionization, 885 for unionization; 4206 eligible
67% against unionization, 33% for unionization